DEPARTMENT OF BIOPHARMACY
DEPARTMENT OF BIOPHARMACY
Department of Biopharmacy conducts applied scientific research of recombinant proteins and development of medical products manufacture technologies.
The researchers of Biopharmacy Department works in these fields:
Improvement of biosynthesis processes and development of new biosynthesis technologies.
Development of the stem cells cultivation technologies and its application according Good Manufacturing Practice.
The two different expression systems: bacterial and mammal are used for the production of the recombinant protein in the first direction of the researches. In order to create an expression system, the optimal transfection conditions are prepared. Selection of clones is made to create a cell line bank, which efficiently produces target proteins. Selected cell clones are used for biosynthesis schemes development in different volume bioreactors. The purification processes of recombinant proteins from bioreactors are optimized due to the physicochemical properties of protein and cell line internals. The analytical methods for recombinant proteins received during biosynthesis process evaluation are improved in Biopharmacy Department.
Scientific research topics:
Research work of recombinant protein expression systems, biosynthesis, purification, and protein properties and the development of a framework for pharmaceutical manufacturing technologies.
Development of technology for multiplication of human stem cells from automated bioreactors in various sources.
Development of 3D bioprinting technology for human stem cells from various sources.
Last updated: 2023-09-18, 21:29:07
Useful information
APC services are provided in two laboratories – Biopharmaceutical Processes Research Laboratory and Disease Biomarkers Research Laboratory in Biopharmacy Department. The equipment in these laboratories are used for different activities in order to develop biopharmaceutical processes:
The package for genetic material preparation, amplification, fractionation used for recombinant cell lines generation, and biosynthesis processes creation.

A set of biopharmaceutical processes research equipment for cell visualization to investigate the concentration and vitality of cells.

The package of recombinant cells equipment for biosynthesis processes development and obtainment of the final product.

A set for recombinant proteins excretion and purification in order to get the final product.

CO2 incubator, incubator-shave, centrifuge for routine works with cells cultures.

Cells visualization system for recombinant cells lines analysis.

The analyzer of glucose for biosynthesis processes optimization.

System of fluids chromatography for large amounts of protein cleaning.

System of recombinant protein for yield measurement.

Mass spectrometry and HPLC system are used in order to get characteristics of the final product.

The system for the analysis of proteins aggregates and particles, homogenizator, viscosimeter with temperature control, spectrometer for recombinant proteins purification schemes development and characterization.

System for the sequencing of proteins for product characteristics.

Liofilizator for final product preservation.
our contacts
Biofarmacijos skyrius
Prof. Algirdas Bumelis
Vyriausiasis mokslo darbuotojas, skyriaus vedėjas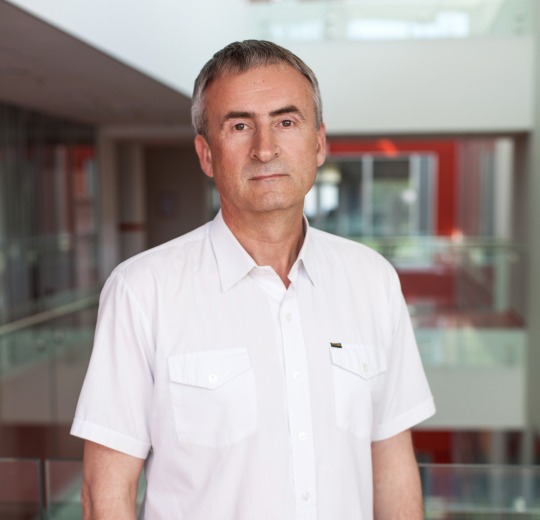 Dr. Gintautas Vyšniauskis
Mokslo darbuotojas

Aivaras Kinderis
Jaunesnysis mokslo darbuotojas